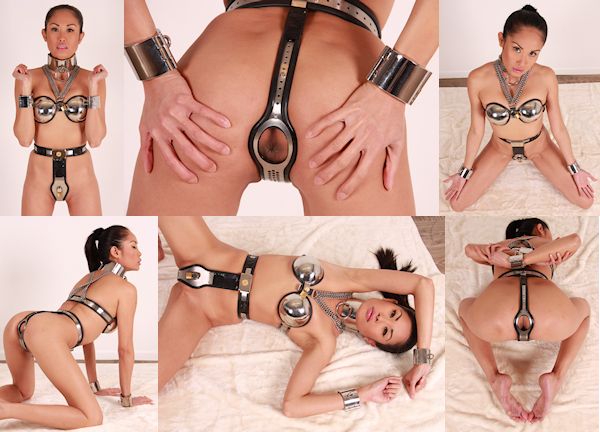 Sorry about the lack of updates with Davon, we have been going through a roller coaster ride of legal and emotional issues, as well as problems with her past relationships and employers. Looks like most of that is solved now and Davon will still be able to stay at my studio as a resident pet slave.
Please don't email me anymore about slavery or setting bad examples. The agreement with Davon is fully mutual and she can ask to be released at any time. This means she can no longer stay at my place and she will have to go back to the Philippines, because there is nothing left here for her. For me it is a charity case, for Davon it is a way to stay in Europe for the time being. She was out of the gear for a while, but she has now been locked back in (she asked for it when all the problems were solved), and it looks like she is here to stay for quite a while. She signed a contract! For those of you who are interested, the contract states the minimum gear is a chastity belt, chastity bra, heavy collar, and heavy wrist cuffs. Plugs and more gear can be added at my discretion. She will help me in the studio, and she will also be available for Meet & Greet sessions and shoots if anyone would like to see her (and maybe check on her, if you think that is necessary).
Davon has accepted her role now and I have been training her to be a good (and very tiny) chastity pet slave. She can assume a few basic slave position already, and she has stopped crying and whimpering (for the most part, nights are still hard, and plugs aren't her favorite either). I would love for some of you to come over and meet her. She will appreciate the distraction! If you'd like to see Davon for a nice Meet & Greet, please email me at webmaster@chastitybabes.com and we will set it up! Previous Meet & Greets with Donna, Natalia Forrest, Dominique, and a few others have been a big success!