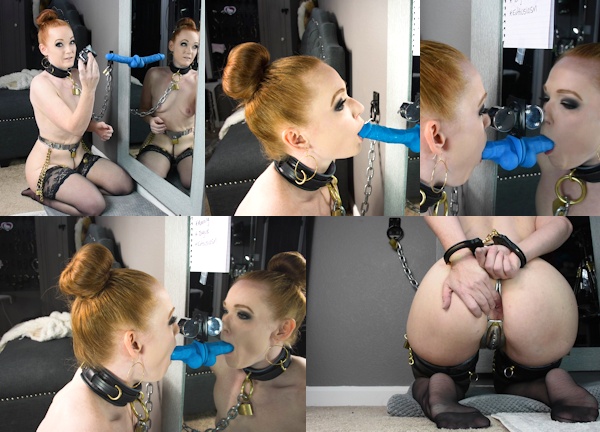 Chastity fans will already know about KittyDenied's exciting routines, she explained some of it when she was getting ready to go out.
Her keyholder (named Sir) has decided that Kitty's mouth is what he will use most. This means her pussy can remain locked for longer periods of time, since it is not needed and will only distract Kitty from focussing on her oral service skills. But Kitty needed a lot of mouth training. She was a bit lazy in her oral skills and Sir wanted her to become better and try harder (and deeper!). Kitty now has her own oral training station at the mirror.
She starts by locking herself in a FancySteel belt (with vaginal plug, which is very kind of Sir) and thigh bands. Kitty then collars herself and chains herself to the O-ring that is next to the mirror. She places the suction dildo on the mirror at the perfect height and starts to practise. But, as she admits herself, she is a bit lazy on the depth, she does not really go very deep, and that's why she needs more training.
Sir has devised a very clever way of training her: Kitty has to stick a clicker counter on the mirror, and if she goes down very deep on the dildo, she can just about touch the clicker with her nose. It is one of the best deep throat training methods I have ever seen. Kitty has to go down really deep every time to add a click to the counter. This teaches her to make an effort for correct depth and trains her gag reflex. To make her focus even more, there is a list next to the dildo with some key points: 'depth, moaning, tongue, enthusiasm'.
Handcuffing herself behind her back, she gets on with her training, since Sir will not release her until she has reached the number of clicks required for today. It's brilliant! I can watch this video forever! Don't miss it!