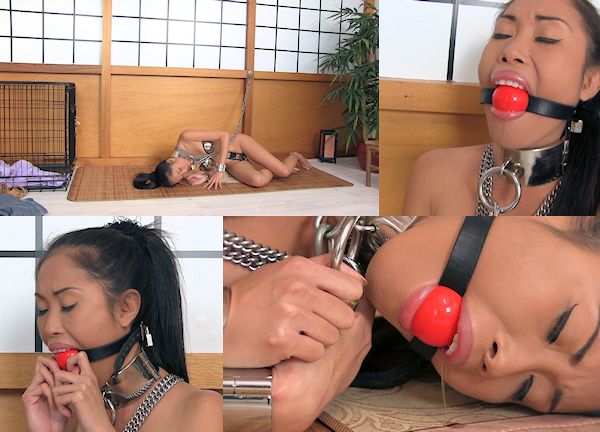 Poor Davon has good days and bad days, like every girl locked in steel. Of course, the very heavy collar does not help, but it is part of her Deal. And I love her in the heavy collar.
I also love chaining her to the wall when I don't need her to be my studio assistant, so she can sleep in her little room that I decorated in Asian style. She does not even have to sleep in her cage anymore, because some of you protested against this very vocally. I recently locked her in a chastity bra too, which (again) did not help her mood, and the 5 ball long plug is still inside her at all times. Too summarize: Davon had a lot of reasons to complain about her situation and that is what she did. All day. Every day. Non stop. Whining, begging, 'this is too heavy', 'this is too much', 'I don't like this'.
Finally, I couldn't take it anymore. I know her complaining isn't real. She just loves to nag me to the point I give in and remove some of the items. She will think she has won, her own little victory. But it doesn't work anymore, I know her now. But I had to stop the whining somehow. So I did what a lot of you had already suggested: I finally had to lock a ballgag into her mouth.
It had to be done. But don't think this stopped her complaining. She still made a lot of noise through the gag. The gag also made her drool uncontrollably, which would mean I had to come back often to give her breaks to replenish all the water that she was losing.
I think we have reached the ultimate point of her Chastity Deal. If this does not turn her around soon and make her more docile, I may have to end the Chastity Deal myself and send her home. The good days with Davon are so nice (she is lovely and very funny), but the bad days… my ears just can't take it anymore.