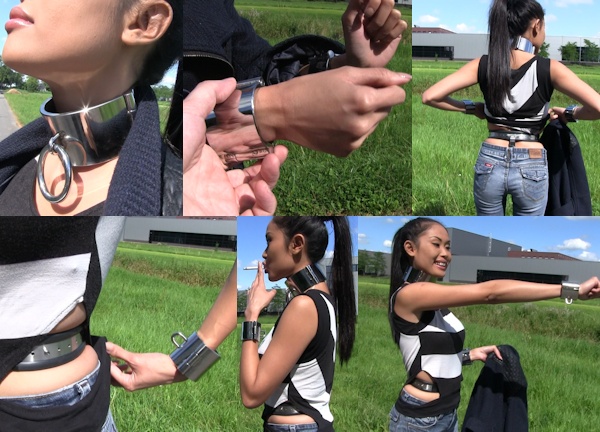 My Chastity Deal with Davon has been getting mixed responses. Most people are glad she got the opportunity to stay in Holland, and everyone knows she is free to get out of her plugged chastity belt whenever she wants. She will probably have to go back to the Philippines if she chooses to end the Chastity Deal, but she is not a slave or kept in chastity against her will.
Of course, she was crying and begging a lot, so I can see where concerns may have come from. Time to show you a different side of Davon, a Davon who has now completely accepted her plugged belt, and even her heavy collar and cuffs. She can sleep in this collar when she is tired enough and the cuffs are no problem at all (they are actually a good workout for the arms!).
I took Davon for a little walk to interview her about her thoughts of staying in Holland, her life in chastity, and her rough start in this Chastity Deal. If you have cancelled your membership because you thought this Deal was going too far, I would ask you to join again and review this video. If you still have got 'slavery' concerns, please email me and I will refund your membership. But I don't think you will, after seeing this video! Davon is fine, she is happy, and she is enjoying her life in Holland. It will soon be cold enough to wear a scarf and jacket to hide everything, so we don't get stared at like we did today on this rather unexpectedly busy road!
Davon is available for custom shoots and meet & greets in my studio! Come see her, she will appreciate the distraction! Her collar and cuffs can be removed for shooting. She is not available for any shoots without her chastity belt though.