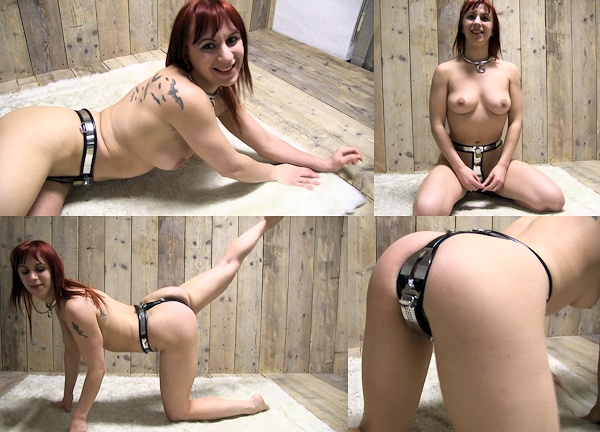 On her second day of her 72-hour Double Plugged Chastity Deal, I caught Lola talking to one of the cameras to tell YOU (members) how she was doing. I thought it was very funny that a girl would actually do her own interview, I did not even ask her to do this!
I secretly listened for a while before stepping in and asking her some more questions. Lola was doing so amazingly well! Of course, she loves to be plugged in her daily life and she owns a lot of plugs (with cute tails). She is used to sleeping collared (she is a sub) and she is a very bendy and flexible person. All these qualities made this Chastity Deal easier for her. She was double plugged with two acrylic NeoSteel plugs, a large one in the front and a slightly smaller one in the back. These plugs are smooth and they slide in and out very easily when she moves her body around doing all kinds of crazy things.
Lola just kept doing all of her daily exercises, because she has a very funny logic: she loves strawberry milkshakes and chocolate. So in order to eat a lot of that, and not gain too much weight (especially in chastity), she just does a lot of exercises to balance it out. She also loves to be completely naked all of the time in her private life. Her friends are even used to that. She does not like anything on her body, so a locked on chastity belt is a bit of a change for her, but she was very determined to make it through the 72 hours.
And I had no doubt she would make it. She could do months in a double plugged belt. There are absolutely no problems whatsoever for Lola, which still amazed me so much I must have said so 10 times in this video. It is just unbelievable. Lola's experience and preferences make her the perfect girl for double plugging. Plus she is just a very sweet and fun girl! So awesome!