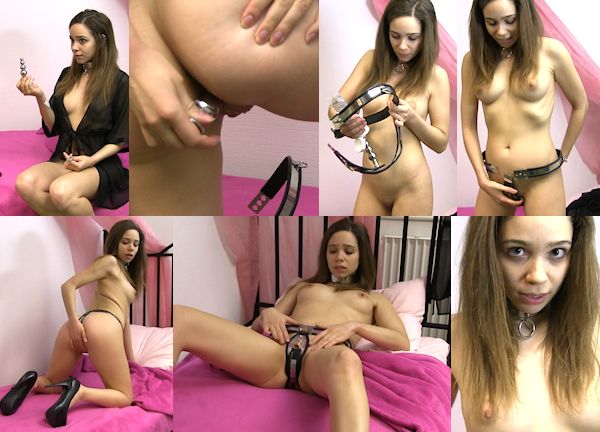 When Lizanne was here for her promo team Casting, she had to be in her belt for a few hours to see if she could get used to it. She did not have much time, as BoundCon was in a few weeks, and she needed to get as much time in her hip style My-Steel as possible!
So she was wandering around my studio until she found the pink room, where I laid out a couple of surprises for her. First of all, she noticed the keys to her belt, and she was happy! But there were two more things on the bed: a My-Steel vaginal plug and a (not so small) jewel butt plug! Instead of running away, Lizanne was very much intrigued and up for the Challenge! What a girl!
She unlocked her belt, inserted the vaginal plug in the slotted shield, and put it aside for a moment. Because the anal plug was going to be inserted first (locking the chastity belt over it). Lots of lubes and a little moan, and the big plug was inside her. So pretty! She wasted no time and slid the My-Steel back on, with another little moan, as the vaginal plug went deep inside her. Locking herself in again was a nice moment. Such a small belt and such a gorgeous girl, now with two metal plugs inside her!
I let her enjoy her plugged situation for a while, taking the keys with me. When I returned some time later, she was still on the bed, squirming and wriggling (trying get some stimulation from the plugs). When she unlocked herself (it was time to go home, sadly), she forgot the anal plug and kept wearing that one for a while until I reminded her about it! That was funny! Lizanne is one of my favorite Chastity Babes ever, she is so into chastity and submission, it's natural to her! And to think that she will join my team of Chastity Babes at BoundCon Munich, with top bondage models Pling and Cobie… it will be awesome!
Be sure to visit us in Munich this weekend, and keep an eye out for the girls in pink crop tops! You can not miss them!!!!