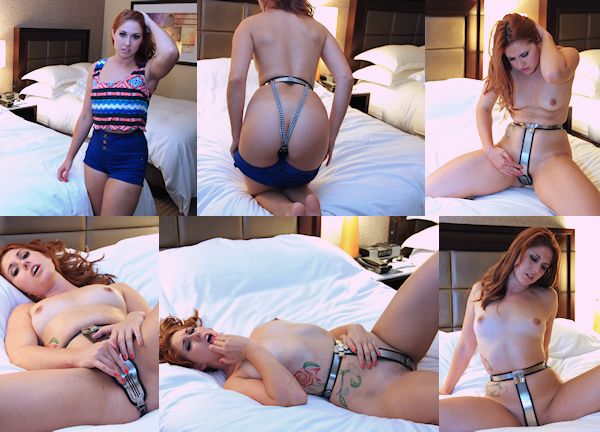 It was late at night when Rose Red Tyrell finally returned to her hotel room. She was so tired and she only wanted to do one thing: play with herself! But unfortunately for her, she met me and I challenged her to wear a this chain style chastity belt…
ChastityBabes.com is based in Europe. It's not easy to lock models from the USA in a chastity belt! I am not often over in the States, and not many models venture across the big pond. So when I have the opportunity, I really go for it! Especially models who are amazing and famous like Rose, she is super flexible, super erotic, and her ass has been voted number 1 several times. You can probably see why! She is a very horny bombshell on amazing legs, and she can never wait to get home to play with herself.
Those girls are the most rewarding to lock up, because they really NEED their orgasms, they can not live without that climax. Plus a chain style belt and that amazing ass, it just looks incredible! The belt was nice and tight on her, there was just no way she would be able to play with herself. But going to sleep without orgasm is one of the most horrible things Rose ever did in her life. She was so frustrated, I was afraid she would explode. Literally. To be perfectly honest, I had even hidden the keys in another room in case she would attack me. She didn't… she was just very frustrated and disappointed. Just the way I like it!