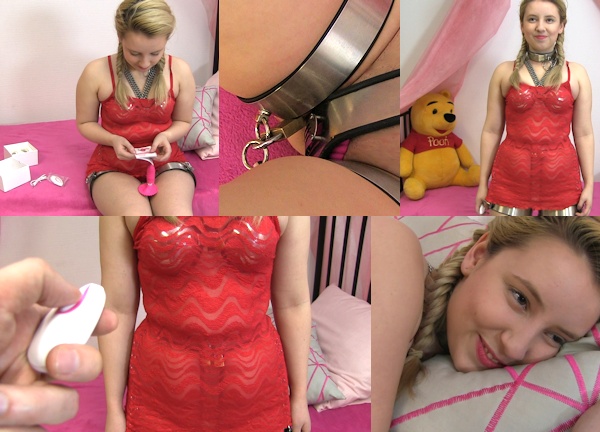 Poor Vina was a little bored during her Chastity Deal. There is not much to do when you are locked in a chastity belt, chastity bra, and locking thigh bands. So I bought her a gift to cheer her up! This was truly a surprise for her, and I did not show it to her until I recorded this video, so her response is genuine.
I have experimented with remote control vibrators locked inside a girl by her chastity belt, but they are all either egg shaped or dildo shaped. This means they only vibrate inside the vagina, but not on the clit. That is nice for keeping girls stimulated without climaxing (which is what this website is all about, of course), but I thought it would be nice to try a different approach, especially on Vina, since she is so giggly and she needs very powerful stimulation to get excited.
This clam shell vibrator is the perfect shape to be worn under a chastity belt! It has TWO powerful motors, one in the dildo part and one in the shell on the outside (right on top of the clit). It has 10 different vibration modes, 1-3 are various speeds, and 4-10 are different vibration patterns. It is remote controlled, so once it is locked inside a chastity belt, there is no escape from the powerful vibration. It can not be taken out without the keys to the chastity belt.
Vina was pretty excited to try it, and before she knew it she was buzzing (very loud) and giggling away. With a huge smile on her face, I let her have the remote to her own pleasure. After playing with it for a while, I left it on the highest speed (setting 3) and took the remote from her when I left! Have fun Vina!!!