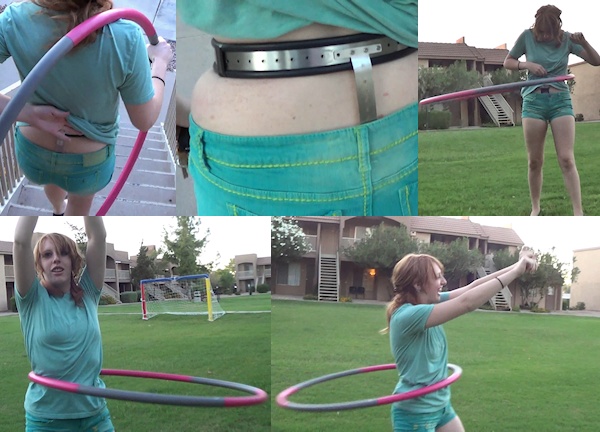 I'm not sure, but I think this video was taken before the last one (going out). It does not really matter, we are seeing a very good spirited Athame asking her keyholder Annabelle Lee if she can go do some workout outside, because she really wants to move (maybe she feels trapped?).
To Annabelle's amazement, Athame grabs a hula hoop and leads her keyholder to a little grass area in her living complex. "You are going to hula hoop in the belt?", Annabelle asks her. Athame's smile tells it all, she is just curious if she can do it! And so are we, because if she can do this, it will eliminate another excuse for girls not to wear a chastity belt 24/7! We have proven already that many workouts and fitness exercises are possible, but hula hoop is a new one!
It's not an easy one, because the hoop needs to hula exactly around the part where the chastity belt's waist band is. Maybe the belt will help to keep the hoop up? Because it is just above the waist band? And what about he swirling hip movement that is required? Athame will definitely feel that in her crotch (remember she is still plugged!!). Will it be a good feeling or will it pinch her? Will it have any other unexpected results?
Anyway, Athame is probably the most care free belted girl ever. She just does not mind at all, she keeps chatting and doing her daily things, you would almost forget she is belted and plugged. In fact, she does not mention the plug even once, but that is because Annabelle did not explain that a plug usually is not an integral part of a chastity belt, so Athame just assumes there's always a plug inside.