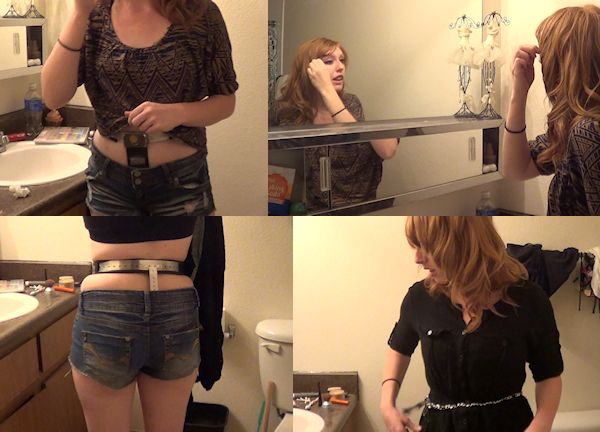 After a few hours in the belt, Athame messaged a friend to go out! Annabelle was amazed: "Are you going to go out in the belt?", she asked. Athame did not seem to be worried about it. She was just doing her makeup and the belt did not seem to bother her at all.
AnnaBelle did a nice interview with her, talking about girly things, adult things, and freedom to do whatever you want. They seemed to have a great time, laughing and joking, while Athame was getting ready for her night out. She had it all planned in her head, so it seemed, because she knew exactly what to wear to hide the belt. A little black dress with a small belt to hide the contours of the chastity belt, and she would keep her shorts on underneath to be more comfortable.
It was a good outfit, although a little bit warm, as the girls are in the desert in Arizona. They even commented on how sand gets everywhere in Arizona, even between the belt and the skin, making it chafe to the point where you would really need baby powder if you were going to wear a chastity belt everyday in the desert. Of course, the word 'powder' led to a whole different conversation, these girls are a bit crazy! Let's hope Athame does not go too crazy on her night out!