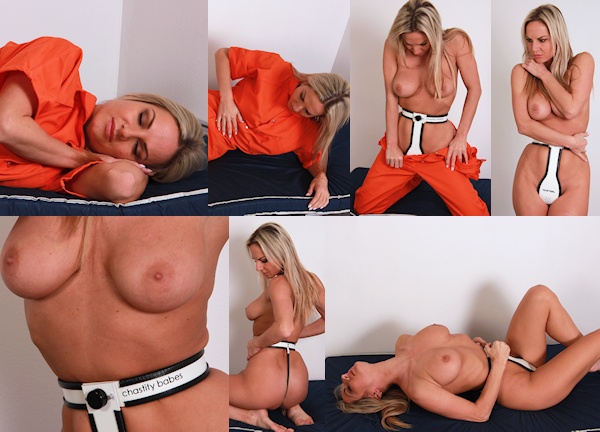 Tiffany, one of our most experienced Chastity Babes, has somehow ended up in prison! She doesn't know how or why she got arrested and locked up, and she slowly wakes up from having strange dreams.
It was not a dream though, she really is in prison! But wait, she feels something really tight around her waist… some kind of hard plastic? Panicking, she quickly opens her prison jumpsuit to see what it is. It is a chastity belt! Still a bit groggy, she does not understand, what kind of prison is this? Why would they lock her in a chastity belt!? It does not make any sense!
Tiffany tries to tug at the magnetic Segufix lock, but it won't come off. The waist belt is super tight on her, it may actually be too small, it is like a corset! She can barely breathe, so she tries to calm down. She takes another look at the belt, it looks like a medical device. Maybe this prison has masturbation rules? Are all inmates belted, or just her?? So many questions go through her mind, while she takes off her jumpsuit completely. Tiffany looks for a guard, someone, anyone, but see can't see anyone. There is just a bed. Not even a toilet.
The back of her belt is a wire. How is she supposed to go to the toilet!? She tries lying down on her back. It's not that uncomfortable actually, but still she tries to get the belt off, tugging at the lock and trying to push the belt over her hips. There is no way this thing is coming off!! How long will she be here? Will she be belted all the time? Tiffany is very confused and very worried. She wished it was just a dream, but it's not. She is in chastity prison!