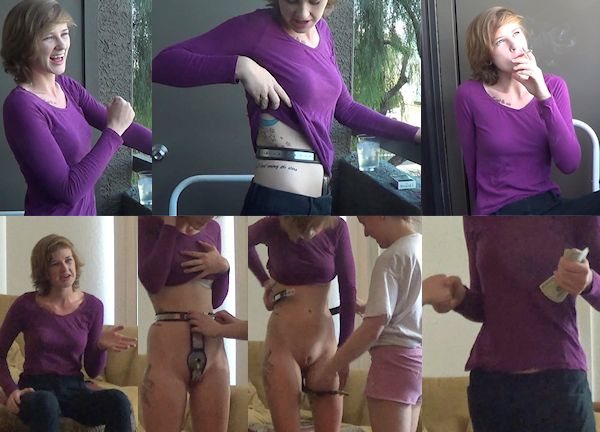 Hmm, that sounds a bit strange. I don't mean this is the end of McKenzie (of course), it is the end of her 24-hour Chastity Deal with AnnaBelle Lee, in Arizona.
McKenzie's incredibly slim body is still tightly belted as we see her smoking an entire pack of cigarettes in the final 6 hours of her Deal. She admits she is very frustrated! Not because of the metal belt locked onto her body, but because of the lack of orgasms! McKenzie thinks that 24 hours without masturbating is a very long time! So she smokes to relieve her frustration, which does not help (don't smoke, chastitybabes.com does not encourage people smoking). AnnaBelle tries to interview her about the reality of chastity belt wear, sitting down, walking, not masturbating, hip pressure, and the other usual questions. McKenzie just wants to get the belt off, she can't wait! The final hours are always the toughest!
And then… the moment is finally there! AnnaBelle tries to be funny by saying 'where did I put those keys', but after a quick turn of the cylinder lock McKenzie is out! The belt is off and McKenzie's delicate parts are revealed! It is always such a nice moment to watch, the girls are really happy they made it and their body is free again! McKenzie gladly accepts the cash she won by doing this Chastity Deal and she goes home with a brand new experience (and to masturbate). AnnaBelle Lee was a great host! She is strict but very nice to the girls. Let's hope she can find another local girl soon!