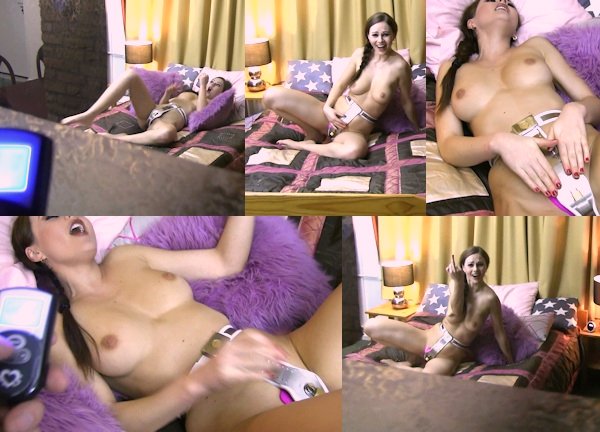 There has never been a more fun way of waking someone up!! A remote control to a toy locked in a chastity belt! A vibrating plug, a shocking plug, or vibrating panties, it is a great feeling to have the remote to a sleepy girl to make her jump and wake up!
Unfortunately, Tina was already awake, but I still made her jump when I turned on her powerful vibrating panties! "I'm sorry, did I turn you on?", I asked innocently, pun intended. "Yes, literally!", Tina answered with a huge smile on her face. There are 10 settings on the vibrating panties, the first 3 are level 1-2-3 constant vibration and the rest are patterns. I think the first 3 are the most interesting. The first level was already powerful, 2 and 3 are insane. At level 3 you can really hear the vibration from a good distance, amplified by the belt, so it would be hard to go in public with that.
Also, at level 3, Tina was unable to sit up and speak, she wanted to say something but she could not even do anything else than moan and throw her head back. The whole belt was vibrating, from the front to the back! I wonder what would happen if she was in public and I suddenly switched her to level 3. I think her knees would buckle and she would fall down!
When I suddenly turned off the vibration, Tina was happy to catch her breath for a second. But when she realised I was going to leave her again, she protested heavily. She wanted the belt off, she wanted something inside her, because she just couldn't climax like this! But after all this teasing, she would rather be left alone with level 1 (continuously on) than to be left with the panties turned off. She was so horny!!!
These remote controlled vibrating panties are for sale if any Tina Kay fan wants them, unwashed with 'evidence' of this Challenge, just contact me if you are interested!