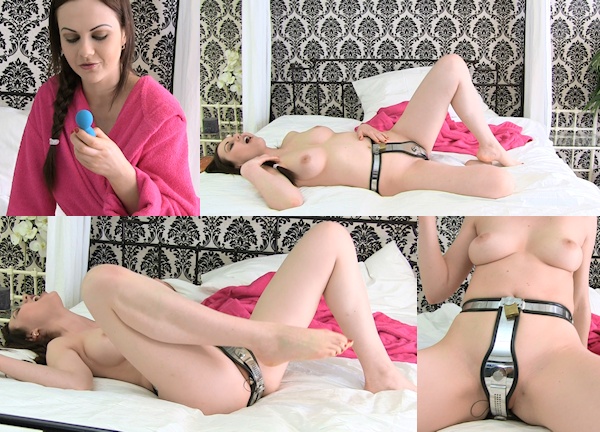 If you don't know Tina Kay, you must have been living under a rock for the past years! This Lithuanian award winning super star is the number one adult performer in the world at the moment! She is in all of the big productions, doing what she does best: having sex all day long, multiple times a day, in every position and location you can think of!
Tina Kay is the biggest sex addict ever! So when she was in Amsterdam, I just HAD to invite her over for a Challenge. I received a remote control vibrator from one of the members (thank you), and I had saved it for an opportunity like this! To lock Tina Kay in a chastity belt for 24 hours, with a powerful remote vibrator inside of her, turning it on and off whenever I wanted. It would be so much fun for me (yes, this really is my full time job), and a very very big Challenge for Tina Kay, as she is used to orgasming many many times a day.
Aaah spending 24 hours with this very feisty sexual girl, with her perfect body locked in a NeoSteel belt, a vibrator locked inside, it was awesome! Tina wasn't too sure, she did not even know what a chastity belt is, but she never ever avoids a challenge, so she was up for it. At least, at the start of the 24 hours. The vibrator had to be turned at a low speed before being inserted, otherwise we couldn't reach the button anymore. After locking Tina in, I kept it running for a while, playing with the settings and modes of this quite complicated remote control (which is also motion sensitive). Tina's hands instinctively went to her pussy, but she couldn't rub herself! A terrible ordeal for one of the world's craziest porn stars! But the funniest moment was when I turned it off completely and left her. She was so frustrated! She was begging me to come back!