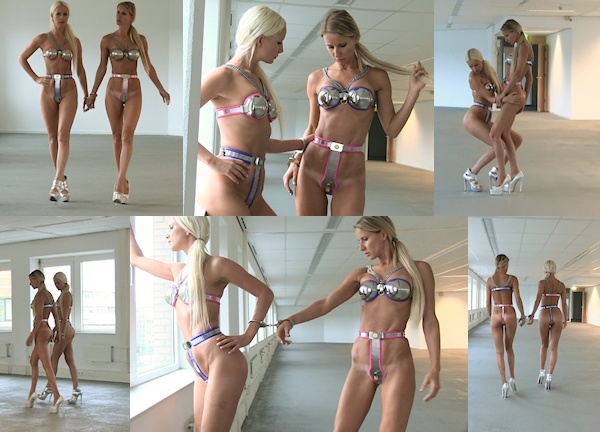 Remember the update with Crystal last year? She is a tall blonde Italian fashion model whose real name can not be revealed (do not put it in the comments, it will be deleted). Crystal looked super hot in a chastity belt and she had a lot of fun during the Casting!
Unfortunately, the fashion model life is very busy, and I was disappointed not to hear from her again. Especially since she told me last time that she had a twin sister! Obviously, this twin sister was also going to be a very hot tall blonde, so I have really been trying hard to get them back to Holland together! And yes, I did it! Turns out the sister is a fashion model too (figures) and her name can not be revealed either (for agency contract reasons), so we'll just call her Pearl.
It's not a Chastity Deal or a Challenge, but we had a fun day with the girls locked in belts and bras for over 5 hours. I was curious what the famous super model catwalk stride would look like in a chastity belt, and these girls certainly did not disappoint! They can walk in high heels! I mean, they don't just walk… They really strut their metal wear like they wear it every day, and since they are twins, their movements are amazingly coordinated! It is so hot to see these two super tall blondes in nothing but metal! It's a shame I don't have the catwalk anymore!
Oh, they did not like the fact that I handcuffed them together for the day, but hey… they are twins, I thought it was a nice touch.