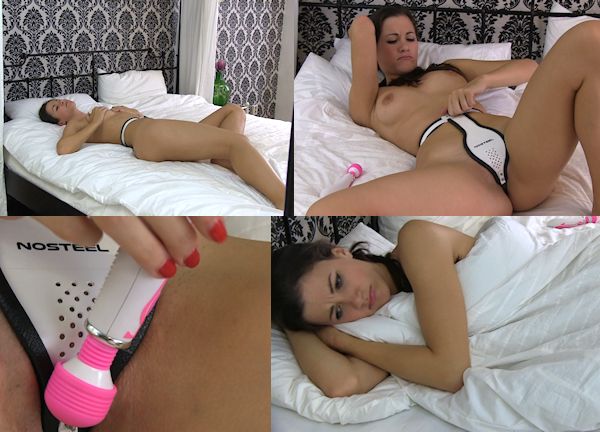 The NoSteel prototype was so tight on Lauren, that I felt confident enough to challenge her. She did not believe the belt was secure enough, but she soon found out when I sent her to bed with a tiny but powerful magic wand vibrator!
It was a beautiful sight: Lauren was getting so frustrated! It was like this belt was made for her! She could not even get her fingers under the belt when she was lying down, it was that tight! The broad front shield prevented any access to her pussy, and even when she tried vibrating the perforated shield, she did not feel anything at all! And that's quite an achievement: Lauren is one of the most sensitive girls ever to appear on ChastityBabes.com, she claims she can orgasm from anything just barely touching her clitoris.
Although the NoSteel belt is just a prototype, and the current lock can be opened by any magnet, it shows that medical grade plastic can be just as effective as metal. It is light, and it is easy to wear and clean. I can't wait for new versions of this belt, and I hope the fan who made this can send me some new things for testing soon! It was a great honor to test this new product, and I hope that you all like Lauren, the new girl I found to test the NoSteel belt! She will probably be back more often, let's hope she will sign a longer deal in a metal belt (with plug!) very soon!