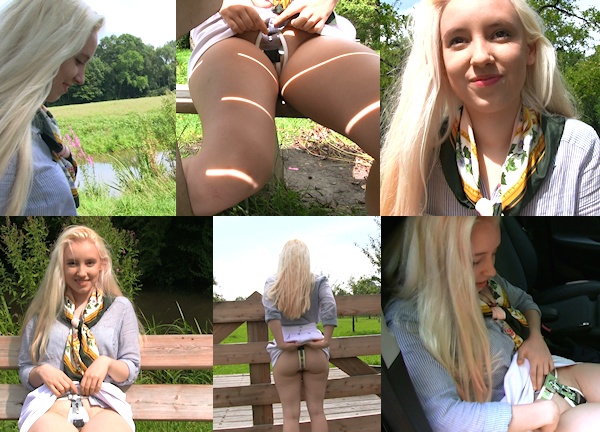 Of course I had to take Vina out for a walk in the park! The famous park that has seen so many girls in chastity belts already!
The problem is… to get to the nice part of the park, you have to walk very far from where you can park your car. And remember: our 19-year old super sweet chastity babe is plugged with a rather large plug inside her cute little MySteel belt! So we had to walk all the way to the other side of the park and back again on this nice summer day! For me it was a treat to get out there, for Vina it was a challenge!
Don't worry about her though, she is a trooper, she could probably spend months in a chastity belt without even complaining. She was only locked for a week, but the added plug was making it very interesting! She had to get a few cleaning breaks, but she was cuffed and supervised during those breaks. Besides those short breaks, she was in her belt 24/7… literally.
She told me the plug wasn't arousing her at all. I don't know if that was true, since she was very wet all the time, and the cleaning breaks were really essential to keep good hygiene. Vina is a mysterious little girl, and it is fun to watch her deal with a chastity belt at this age where she should be exploring her sexuality. I think walking with a plug helps to train certain muscles, and it will only benefit her in the long run. It is super hard to read a girl like Vina, but her mischievous smile told me that she was enjoying every minute of this walk!!