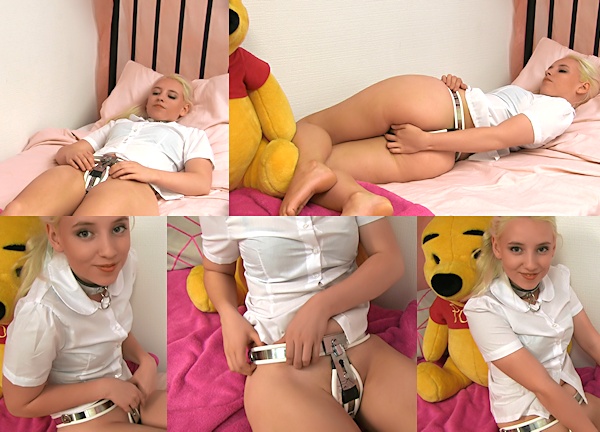 Within minutes after her belting, Vina was already exploring the chastity device she would have to wear for an unknown number of days (I did not tell her yet). The belt was tight on her hips, but not on her stomach. That's normal, when a girl is lying down the soft stomach area can leave a little gap. A properly fitted chastity belt can not be pushed down (the hip bones prevent it), so the crotch part always stays tight. Especially with a large 4-ball plug inside, the belt has very limited movement. It was stuck in one place, and not going anywhere.
Vina was particularly intrigued by the fact that she could feel the plug base when reaching into her anal opening. The plug is in a metal slot, and it can move back and forth a little, to allow for the body to bend. I was planning on keeping her in her tiny My-Steel for 7 days, with the plug in her at all times, and as little breaks as needed. No toilet breaks, but of course some cleaning breaks were required for hygiene (especially with a plug). The plug itself did not really seem to arouse her yet, but that could be part of getting used to the belt's pressure on her hips.
She was still very shy, so I tried interviewing her a little, otherwise she wouldn't probably say a word for 7 days. I forgive her, it's not easy for such a young girl to be on camera in a chastity belt with a big plug inside for an unknown number of days! Hopefully she will start talking more in the next few days!