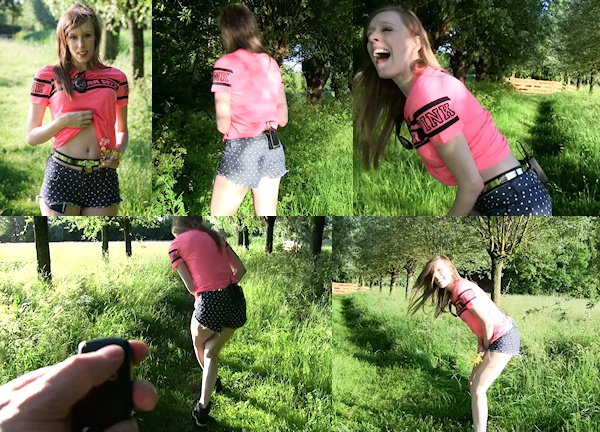 And away we went! The great outdoors! I took Cobie to a quiet bit of park where she could scream very loud, and we had lots of fun! Well, I had lots of fun anyway… I don't know about Cobie. She was plugged with a small anal egg, and the remote control box was clipped onto the back of her NeoSteel. We managed to run the wire through the anal cover slot, so it was all very neat and tidy.
I was having way too much fun with the remote, often secretly turning it up a notch to see if she would notice. Whenever there were people approaching, I tried to get Cobie to make a sound, and a few times people were looking at her, probably thinking 'what's wrong with that girl?'. Then I let Cobie have the remote, and she tried shocking herself, which was even more fun!
She tried to get angry at me, but she was enjoying it too much. I could see that she loved the anticipation and the game, although some of the shocks were quite harsh. At the end of our walk, I told Cobie that she would have to take one final big shock (the setting was at level 17 I think). It almost floored her, as she lost control of her legs. Instead of being angry, she laughed and laughed… I could see that she was done, but what a girl… I wanted to keep her in chastity so bad! It was a shame she had to leave and go back to the other side of the world… Let's hope she will be back soon!