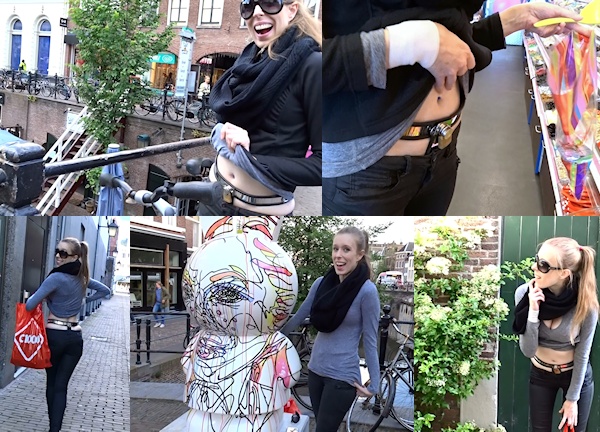 Legendary bondage model Cobie from Australia was touring the world for the first time in her life, visiting many interesting bondage countries like the USA, Germany, and the UK. She was travelling to lots of fetish and bondage producers to work with them, and she wrote me if a stay in Holland was possible. She had already heard from other producers and models that she would be locked in a chastity belt for the duration of the stay, and that very much excited her!!
As you may have seen on my (or Cobie's) Twitter account, she actually was in the apartment for 13 days. It was supposed to be 9 or 10 days, but the next producer wasn't ready to receive her yet, so she faced an unexpected extra 3 days in the belt at the end. Cobie just enjoyed every minute of it! She is a super modest, sweet, and submissive girl, with an incredible talent for tight bondage and bondage endurance.
I had a second hand NeoSteel belt in my studio which was just an unbelievably perfect fit! Like it was made for Cobie! I don't have the tool (yet) to remove the slotted anal cover, so she had to ask permission to use the bathroom for 13 days. She could still pee through the belt, but she found that so messy that she asked for toilet permission every time she had to go.
Cobie tried everything, even double plugs and a remote controlled electro plug, she was really exploring her belted life! But most of the time, she was just locked in the NeoSteel, and if she wasn't shooting, she was asking me to take her sight seeing. She is from Australia, so she really wanted to see as much of Holland as possible!! She never even asked for a break, slept in her belt right from the start, and was never complaining or negative.
In this (guess the city) update, you will see the things Cobie loves most in life: candy, Miffy, and tea (and did I mention LOTS of candy?). I had such a great time with her, she is a perfect Chastity Babe with a perfect belt!