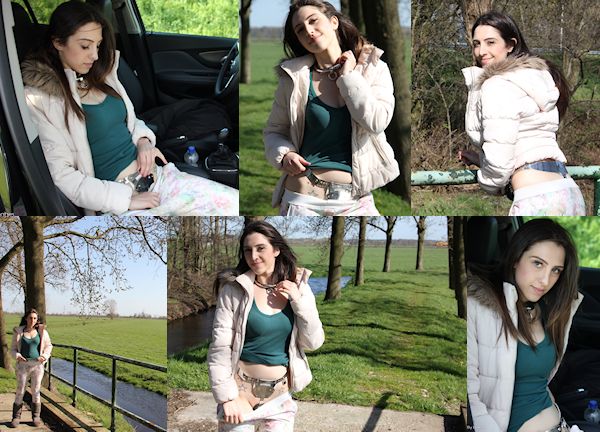 Here is an update from day 7, when Donna wanted to go for a ride in my car to take her out of the city to enjoy the flat Dutch countryside. The belt and the car seat were not a real good match so we did not drive too far and we ended up near a highway where Donna wanted to flash her belt to the traffic (lol).
It was pretty windy and (of course) too cold for Donna, and the traffic was pretty noisy! So after a nice walk we decided to move again, away from all the sounds. We ended up in a different bit of Dutch countryside, with no traffic noise, but the smell was incredibly overwhelming! Real farm animal smell makes you realise you're not in Amsterdam anymore! It was all a bit much for Donna, all these smells and sounds!
But if you ignore those two senses, you still have an important one left: sight!! And what a pretty sight Donna is, especially this year! She is so radiant in her collar and belt! Her sweet little smiles and naughty eyes always seem to betray her, even when she acts like the metal gear is bothering her. It really isn't. And I have some apartment footage to prove that she is completely comfortable, to be shown here soon! Stay tuned and – in the meanwhile – enjoy Donna's field trip!