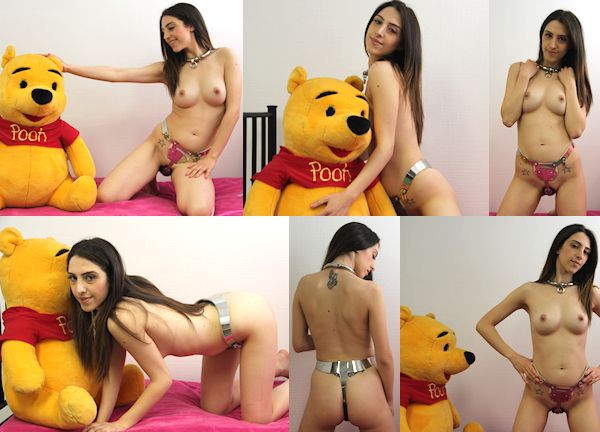 Donna sure has a lot of initiative this year! She really wanted to do a 'cute' update for you, the members, so we went and did exactly that. This is not my idea, and Donna really hopes you will love this! As always, please comment below!
Donna was really getting more and more used to the belt and collar from day 5 onwards, but her health was still failing her. She was a real trooper though, helping me out with a lot of things around the studio and in the apartment. We worked together much more closely than last year, because of the style of belt we couldn't really go our own way, I always needed to be in close range for supervised toilet breaks (although she could pee through the belt), and hygiene/shower breaks. We solved this by using a plastic numbered seal if I really had to go away, so Donna could have one break on her own (by cutting the plastic seal) and she could lock herself back in using the metal padlock. I trust her 100%, Donna would not take any advantage of this situation, and she would lock herself right back in again.
In this cute update, you'll see a very sexy and happy Donna, and one very lucky bear! She hopes you will enjoy it! Remember: there's still time to make member suggestions for her stay, she is still belted!