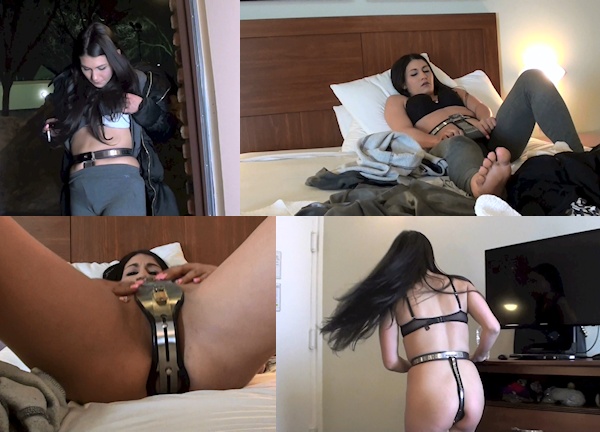 Frustrated by her ordeal, Jade is outside her motel room, smoking a cigarette. She smokes a lot more now she is locked in a chastity belt with 2 plugs inside her. So maybe being double plugged is not good for your health… who knows?
Jade comments on how her Chastity Deal is almost over, and that's a good thing, because she is ready to explode! She feels the plugs with every step she takes, and sitting down or bending over makes the anal plug go in deeper! She mutters some more before going back inside, it is too cold to smoke any more cigarettes.
Lying down on her bed, she finds out that she can move the belt a little, making the plugs go in and out, maybe just a centimeter. Although she gets a little pleasure from this, it is not nearly enough to make her cum. Even more frustrated, she gives up and grabs the tv remote. But the cheap motel tv doesn't work… Jade almost loses it, tugging on the tv cables and shaking the tv, but it is dead.
There is nothing else to do for her… she will just have to go to sleep again, with two 4-ball metal plugs locked deep inside her. She really hopes this Deal will be over soon now, it is getting to her!!