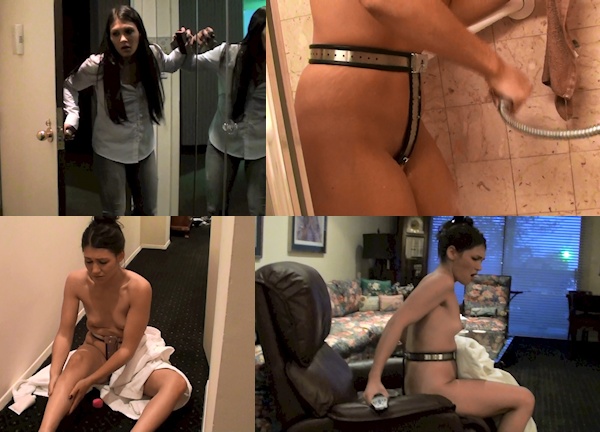 This is getting more and more exciting, Jade actually spent quite a long time in the belt with the 2 plugs inside of her! She even went to work a few hours, and managed to meet a guy who she really liked. She can not go out with him though, what will he think! But Jade already agreed to see him that night. A chastity belt can interfere with social activities like dating, but it can be explained, but what about a belt with 2 plugs inside? The guy will probably think she is crazy (however, I would be my dream to meet a girl like this, so not everyone would react the same way).
I would love to see Jade go out in a belt. Actually, I made it a new Challenge for her: public footage with double plugs too or I would consider this Deal a failure. And we all know Jade doesn't like to fail at anything! Maybe filming a date would be too problematic (the guy probably wouldn't like being filmed anyway), but Jade really has to go outdoors and give us some exciting public footage!
Don't get me wrong, this video is fantastic, it really shows how tough it is to deal with having two steel plugs inside of you! Jade is getting more and more excited by the front plug, while the back plug is really starting to annoy her. Showering is not easy, but she manages to do everything, including putting lotion on her legs (even if she has to sit on the floor for this). The best part is that Jade never stops muttering to herself, so we get a great insight in this Chastity Deal.
When she finally sits down to watch television and sighs: 'this chastity sucks…', you almost feel sorry for her… Almost!!