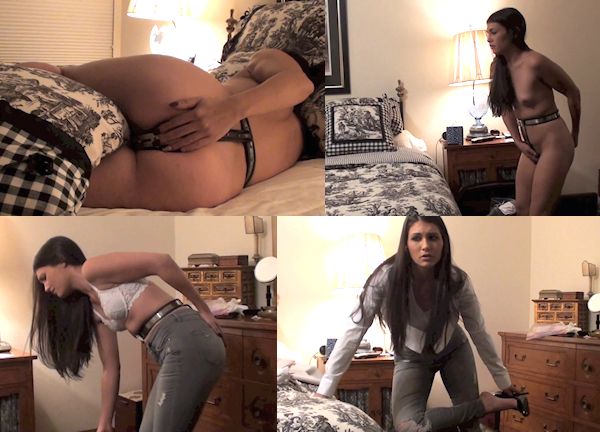 Yes, Jade Indica really has to go to work. She is not a full time mistress (she wishes she was!!), and she has a regular office job just like many of us. She tried to call in sick, but she played that trick a little too often in her past, so her boss did not believe her.
Of course, with 2 big plugs inside of her all night, Jade did not sleep very well. She tried some tricks, like sleeping with a pillow between her legs, or lying face down with a pillow under her stomach, but it did not really help her to find a comfortable position. In the end, she only slept 2 hours. She was tired, horny, and frustrated. Not a good start to her working day.
Looking at her videos, I am always amazed how Jade just moves around so much. I mean, why would you clean your kitchen floor, or adjust ALL of the pillows on your bed when you are in a rigid chastity belt with 2 plugs inside? It seems like Jade doesn't want to give up on her daily routines, which is a good sign! Her clothing choice is also a bit strange. First she tries on a black dress, which is way too thin and a bit short. The waist lock block pokes right through it. Then she finds the tighest jeans she has, and put thoses on instead! The plugs are pushed inside her even more! She reminds herself just in time not to jump when putting on the tight jeans (which she usually does). A white shirt and some heels complete her outfit.
Jade is allowed a supervised toilet break when she comes home from work, and she only has to work a few hours in the morning I think, she will be SO glad when she comes home today!