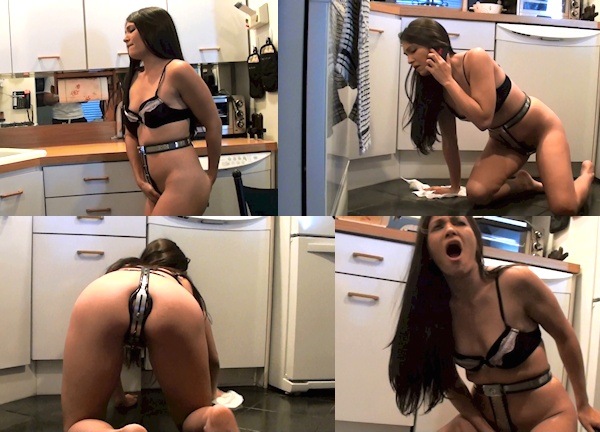 Here it is! The first real 'daily life' update of a girl in a chastity belt with TWO metal plugs locked inside her! And the best thing is: the girl is Jade Indica, who never stops commenting on how she feels, what she feels, and what she thinks! So we get a perfect insight in what it's like to be in a rigid chastity belt with two 4-ball plugs inside.
The manufacturers of these belts created slots for the plugs to slide back and forth, but they obviously never tested this themselves. This idea works with 1 plug (the vaginal plug) inserted, a girl will be able to bend over and the plug will slide through the slot, giving her a big range of motion. With two plugs, this does not work, as Jade finds out. She is held very rigid by the two metal dildos inside her, and bending over is very hard, as she has to tilt her hips completely forward. Jade soon discovers that it is best to go down on all fours if she wants to get something from the floor.
She isn't confident she will keep this up for long. Jade even finds it hard to do the dishes, and when she remembers she has to clean the kitchen floor as well, it is enough reason for her to try and call in sick for (tomorrow's) work. Unfortunately, her boss does not accept her reasons, because the coughing she tries to fake is interrupted by sudden cries of pleasure when she shifts her body position. The plugs make her jump several times, but it is not all bad. It is a mixture between pleasure and discomfort. Let's see if she can get over the discomfort and take on this incredible Challenge… or will she have to give up?