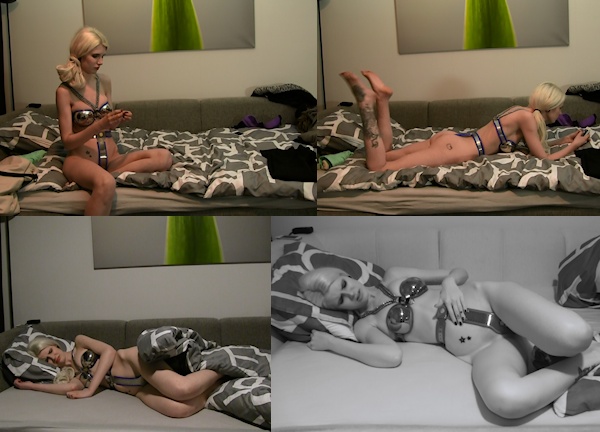 When girls sign up for a 48-hour Chastity Deal, they often think it is 2 days and 1 night. And the nights are the worst (most girls can't get any sleep at all), so they are glad it is 'only 1 night'. But they're wrong. Since they are always locked in their belts at day time, there will always be 2 nights in a Chastity Deal.
This wasn't really good news for Birdy Dee. The Scottish girl, who begged for a Chastity Deal during her Casting, was having a harder time than she had anticipated. She was cheerful at first, marvelling at the color of her belt and bra lining, but sleeping in steel… that's a whole other thing.
The first night, Birdy Dee did not get much sleep. She was getting more and more desperate, as she lay awake in the dark apartment. Figuring out how to sleep when a metal bra is locked onto your ribcage is not easy. The solution is to lie on your back, but some people just aren't back-sleepers, so that takes a while to get used to.
Of course, there was also the blue chastity belt, denying her from any pleasure or distractions, or perhaps a nightly ritual she would have performed if the belt hadn't been there. It is tough to break habits and deal with sleeping in a whole new way. In this update, you can see Birdy Dee going from curious, to frustrated, to angry, to desperate (she even cried a little). I said it before: chastity is a mental thing, maybe even more than a physical thing, and it is certainly not easy. How would you do in a 48-hour Chastity Deal with no previous experience? If you are male: try it! If you are female, email me to come over to Amsterdam and test yourself!!
Don't worry about Birdy too much! She was alright and she really enjoyed her time in Amsterdam!