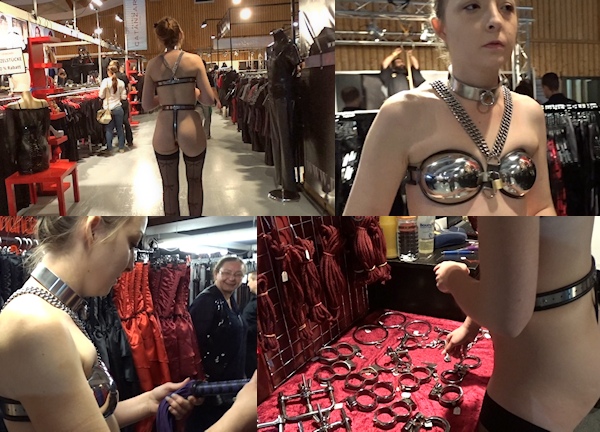 This year, BoundCon was held for the first time in Austria. Of course, I had to be there! I even had my own booth! Just like at this year's BoundCon Munich, I took a model with me to show some chastity and metal gear to the public. Who better than the lovely Pling from Sweden, who actually owns her own perfectly sized chastity belt and chastity bra (saves me from having to take those to the convention)!
While it wasn't a very busy convention (it was the first time in Austria, and it definitely needs to grow), the trip was very succesful! I got to meet a few of you again (hi), and we got plenty of attention at the booth, especially when I locked Pling in some of the heavier metal contraptions. Whenever Pling wasn't at my booth, she was walking around, always in her full chastity outfit and collar, looking at things to buy. She just can not stay away from the cuffs, collars, whips, and shoes!! She really does have a big shoe fetish!
Check out this video clip of Pling wandering around in chastity shopping for new toys. She was getting lots of attention, and a lot of positive feedback on her outfit. Conventions like these are the perfect place to walk around in full chastity, it is public, but not too public. There are many people who have never seen anything like it before, and Pling sure got a lot of questions from couples that were interested in starting with female chastity.
Do you want to see a live girl in chastity? Many of you may have never seen this up close and personal. You can always come to my studio to meet girls like Donna, Dominique, Natalia Forrest, or Amarantha (when available), or you can meet me (and 1 or 2 models) at the next BoundCon. Write down this date in your calendar: 22 to 24 May 2015 in Munich! Come and say hi!!