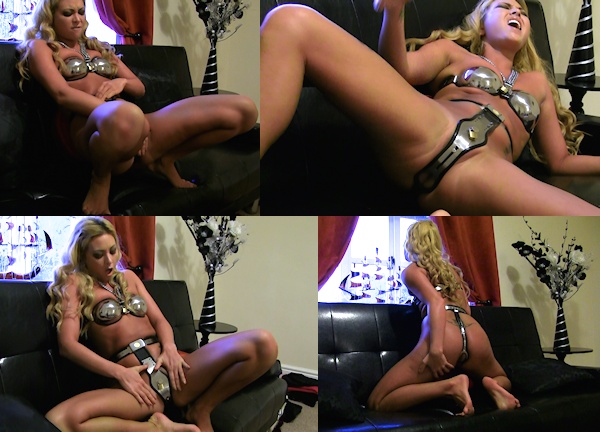 Almost at the end of her ordeal, Natalia Forrest had been changed into an incoherent mess, torn between discomfort and pleasure. Although the stimulation over the past 48 hours had been nice (to say the least), the frustration became so overwhelming she couldn't even focus on anything else.
Natalia Forrest had been locked in a plugged chastity belt and a chastity bra for almost 2 days in a row, without breaks. Do not underestimate this feat, it is unlikely to be repeated by any other Chastity Babe soon! She learned how to use the toilet with a plug inside, she was dripping wet for 2 days straight, and the ball shaped plug kept stimulating her with every move. It slides back and forth in the secondary shield, but Natalia also discovered she could move it slightly in and out when she was tugging on the secondary shield padlock.
Not being able to touch her breasts only added to the frustration. I thought she was going to burst! At the end of the Deal, she really really needed to get the gear off. It was almost time, there were only a few hours left for her to get her cash. Needless to say, she made it, making some good money to satisfy her shopping addiction! Stay tuned for the unplugging video, you will love Natalia's reaction (as always!).