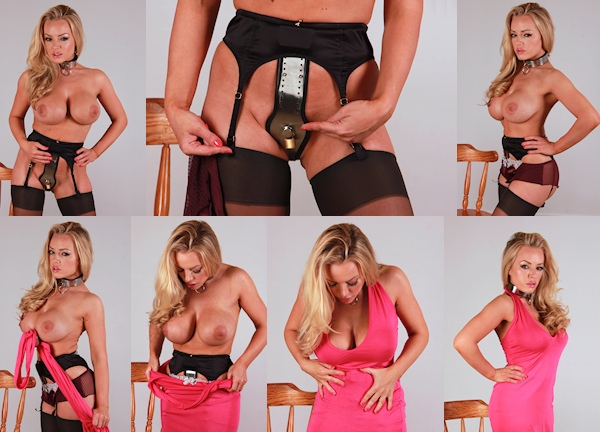 One of the most frequent member requests was to get Hannah Claydon back for a Chastity Deal. Unfortunately, that is really really hard since she is a very popular model (very busy with shoots and television work), and she is a little reluctant because she really does not like chastity belts at all.
After a lot of emailing and discussion, I managed to get her back in the studio where I intended to lock her up for 24 hours. Unlike other models though, Hannah didn't have time to hang around for a day, she needed to move on to do other things in Amsterdam. She had another shoot and even a date! At least, that's what she said. Why do girls never think this through? I mean, I belted her, I was keeping the keys, and I even collared her. There is no way she could show up to a glamour shoot saying 'oh yeah sorry about that, I'm locked in a chastity belt today'…
Hannah is still stunning, whatever her mood. And she looks incredible in lingerie and a collar, the topless scene is priceless! I am proud to have belted and collared this famous UK babe! I love my job!! Hannah did not really love her job that day though…
A lot of complaining and 'this is ridiculous' later, Hannah actually left my studio in a tight chastity belt and collar! I bet you are curious how this worked out! Stay tuned for the surprising turn of events!