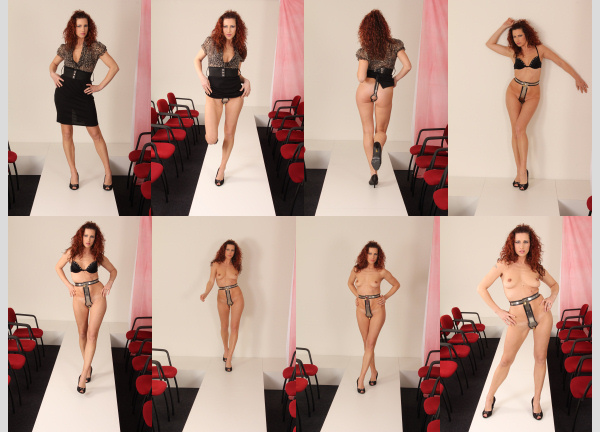 To get used to wearing a chastity belt, our girls must learn to walk again. As requested by members, the girls need to know how to properly walk while belted, and this has to be practised a lot. It can not be apparent that they are belted when they are out on the streets. They have to walk like a lady, and what better way to practise than an actual fashion runway!
Yvette is the first of our chastity babes who will take on the catwalk. Her belt is nice and tight, with a nice flat fit at the front. We make her walk up and down the catwalk over and over again, while taking pictures and video, for you to judge her strut at the runway. Yvette has done a lot of fashion modelling, so she knows how to walk on a catwalk, but it is hard to focus with a chastity belt locked on.
We tell her to strip so we can see the belt more clearly. It turns out to be a very good study session for people who are interested in watching a girl move in a belt. It is the first time this has ever been so clearly documented on the internet, and it makes for an amazing fashion show.
It is a shame there is no audience for this fashion show, perhaps some members are interested in taking the seats for the next Catwalk Practise update? A great chance to see chastity belt modelling up close…. really close!