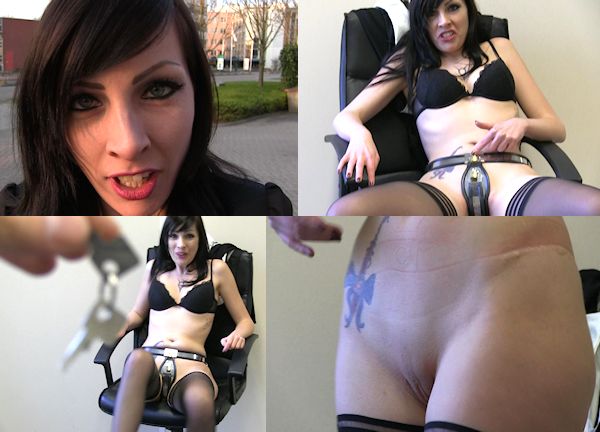 Yes, you finally let her out of the belt!! It is unbelievable in many ways! An interesting social experiment, in which I included non-members on purpose. With members only, Amarantha would have probably been out sooner. But voting as a visitor, in complete anonymity, brought out the evil side in many of you. For a while, I thought Amarantha would be locked for life, but as through some miracle, her quirky video reports got a big anonymous mass to stop trolling around and be serious about voting. I think it might be the first time on the internet that a big group of people felt some responsibility!
Amarantha brought back the camera yesterday, self reporting as she was approaching my office. She was so happy! She even brought a pair of underwear and she was very excited by the prospect of wearing them, instead of the rigid metal belt. I made her sit down, take off her dress, and tell you how she felt about the past two weeks. She really had enough of the belt, calling it a monstrous thing. Her skin was really bruised and red. Her life was a total mess, but it was a fun adventure!
She couldn't sleep well, was late for work almost every day, almost lost her job, had to work late every day. Her relationship went totally the wrong way (hear more about it in the video). She has been everywhere in the belt: the supermarket, her work, to the beach (where some friends found out about her belt), to a party, and a lot more places in public.
After the interview, I suddenly pulled out the key, and her face was really priceless! She was so happy! She took off the belt immediately and it felt so great! She put her belt in her bag and got dressed again, this time wearing normal soft underwear for the first time in two weeks! Amarantha said we don't have to call her any time soon to do this again… but I have a feeling she will be back for a new challenge on this website! But first we have to give her time to heal her scars, and heal her life. It was a wonderful journey, thank you Amarantha!!
Today is the best day of my life, better than graduating or getting married, it feels better than anything I have ever felt before!