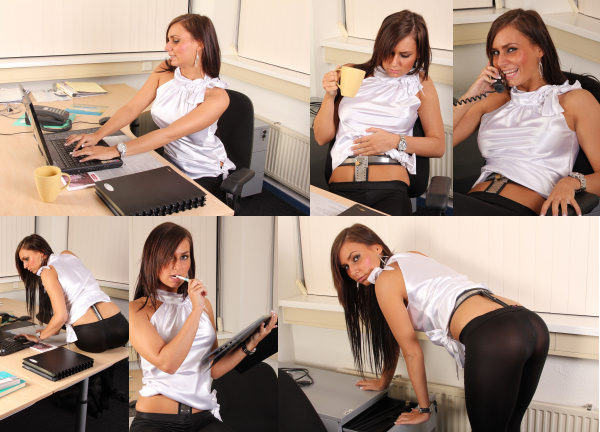 Carie woke up in her chastity belt for her 24 hour challenge. Realising what she had gotten herself into, she decided there was no other option than to get dressed and go to work.
But she just can't get used to being belted. The belt is annoying her no end, because the waist band is tight and sitting in a rigid piece of metal is not easy. She is shifting in her seat, trying to work out what sitting position is the most comfortable.
Fortunately, no one is around at the office today, which is good for Carie since she picked the wrong outfit to effectively hide the chastity belt. The ass opening is clearly visible through her her black leggings, and bending over to get a file from the cabinet reveals the complete rear section of the belt.
8 hours of telephone calls and emails. At the end of the day, Carie must admit she almost forgot about the belt at some points. But still, she will be very happy when she will be allowed to take it off. Not yet Carie…. not yet!