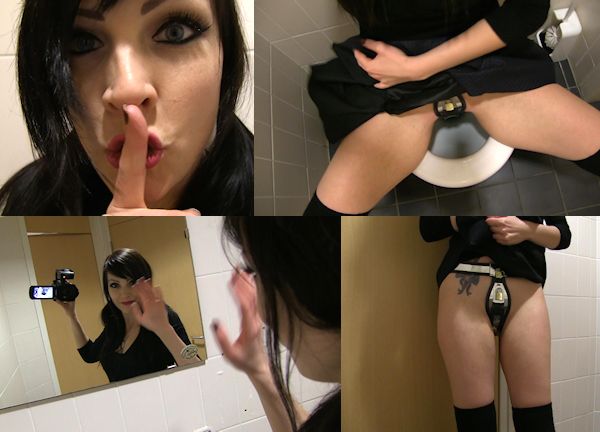 Another report from work! This time, Amarantha is on the toilet, where she takes the opportunity to answer a few of your questions. A popular question is 'how do you go to the toilet in a chastity belt?'.
Amarantha really takes her time to show you all the belt's details. My-Steel has put a lot of thought into this. Just like Donna, Amarantha is locked into her very own custom made chastity belt. Everything lines up perfectly, making toilet visits easy (with a little training), even though self stimulation is still impossible. If you are really serious about chastity, you should always get a custom belt from one of the main manufacturers. An adjustable cheap belt is a great way to start though!
Amarantha also tells you about her day. Her colleague got fired, which is a good thing, since a better job may be opening up soon! But to get that new job, she really needs to get up earlier, and focus on work more, but the belt is not letting her. She is starting to feel some effects of the belt on her personal life and her skin is getting a little irritated.
On the positive side: Amarantha only wears skirts and dresses (she can not wear jeans with this belt), making her look very cute, althought she has to be careful about how she sits or bends over. She is really begging for the keys in this report, she doesn't expect you to let her out, but it has been so long that even I think she should be unbelted. From her personal record of 48 hours to 2 weeks is incredible! And some of you were right: if we let her out now, she might come back soon to do a new challenge. Let's be realistic and give her back her own keys soon!
[poll id="11″]