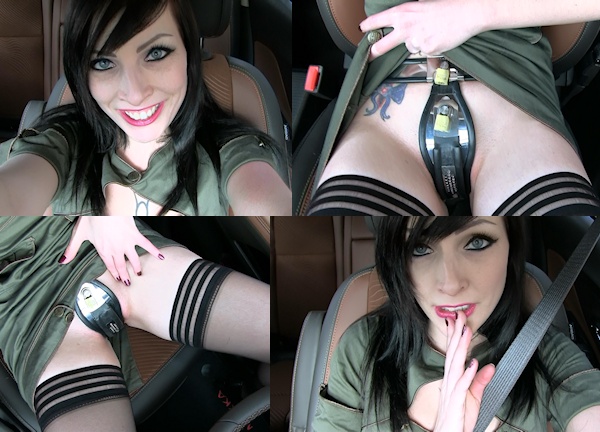 Yep, Amarantha almost did it! She almost got out after only 6 days in the belt, because she did a semi-fake self pity morning report! Please keep the following things in mind: this is Amarantha's OWN My-Steel chastity belt, people don't order a 700 euro belt if they are not into this fetish. Amarantha does have lots of chastity experience, she has been featured on websites like BloodAngels.com many times (locked in a chastity belt!). Although BloodAngels does not feature any update texts, it is safe to say that she was in the belt for more than a few hours over there.
Amarantha is fine, she is going out, going to work, fooling around here at the studio sometimes with some quirky visits, spilling drinks all over the walls. She is in good spirits, a little desperate at times, but she is coping. She wanted to be challenged, but now all she really wants is to get out of her tight belt! Although the votes are still in favor of keeping her in the belt, at the rate you were going (from 4% to 8% to 30%), she would be out today! I won't stop you from voting to unbelt her, and if she gets to 51% I will definitely let her out (fair is fair), but please watch today's video update before you make up your mind.
This was recorded yesterday. Amarantha is planning to go to a party in her cute military style dress. She is doing fine, although she doesn't want her friends to find out, but the belt is completely invisible under this outfit. The situation with her boyfriend is somewhat defused, but if anything will get her out of the belt soon, it will be relationship problems. I don't want to ruin her life with this challenge, even though Amarantha says he agreed on this in the first place. Don't get me wrong though, she still is pleading to get out, and she is hoping you will release her before the weekend starts. It is not an easy life right now for her. It seems the Chastity Deals are always made a lot harder by the girls' personal lives, it is often not the belt but the situation that will end the deal. Let's see where the votes go now!
[poll id="7″]