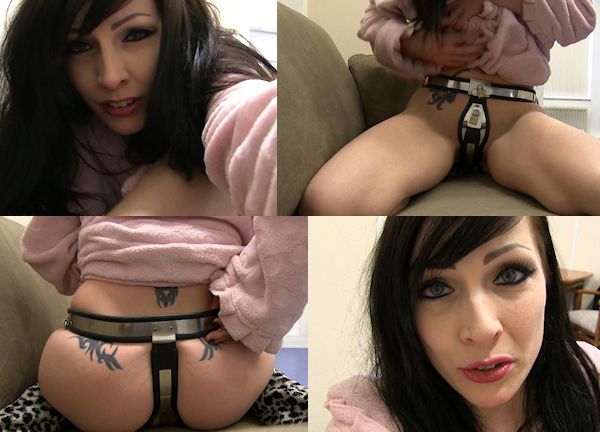 This report by Amarantha scared me a little, but I think it is just because she is definitely not a morning person! She still doesn't sleep very well, and if she does, she falls asleep in the strangest places!
In this update, you will hear how much the belt affects her life: Amarantha had an argument with her boyfriend (about making this Deal), she is thinking about calling in sick for work, and she is not really thinking straight (but that could be the morning person again). She has a cold and that makes her bones ache a little bit more than usual. It is just a bad time for her to be in a belt. She wants to get on with her life, but being locked in a chastity belt is not helping with her daily troubles… Just hear her entire report and decide if you want to let her out. I think it is only a little depression she is going through, but if you feel that she should be unbelted, just vote her out! If you think she just needs a strong cup of coffee and a shower to brighten her day, you can keep her in the belt for a little longer.
Please vote below. Visitors: you are allowed to vote, but since you haven't heard Amarantha make her case, please do not vote if you are not sure about your decision, this is not a game. Members: please watch the ENTIRE report to make up your mind. You can only vote once.
[poll id="6″]