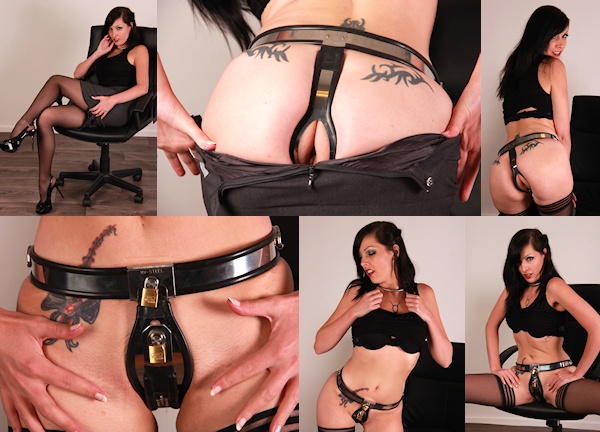 One of the most well known chastity babes on the internet is from my country: The Netherlands. You have undoubtedly seen fetish model Amarantha LaBlanche wearing a chastity belt on many other websites. She actually owns a custom made hip-style My-Steel belt, and has always been one of my favorite models. She is so real, and REALLY into the lifestyle!
You can imagine my excitement when she wrote me, asking for help. Amarantha told me she had never been locked in her belt for more than 2 days without breaks. As her boyfriend does not share her interest in chastity, she always had to hold her own keys, which after about 48 hours usually gets too much for her. The frustration and the complications of living in the belt are enough for her to give up after the initial excitement of locking herself into her belt.
So she needed someone to hold the keys. In fact: she wanted to make a Chastity Deal like one that has never been seen on the internet before: Amarantha will trust YOU (the members and visitors of this website) with the keys to her belt!! She will only be unbelted if enough of you think she has made a good effort!
How are we going to do this? Well, first of all: this is real. In real time. So please don't play around and don't have unrealistic demands for her. Amarantha will make her own video updates and send them in on a regular basis. She will also tell you why she thinks she has been belted long enough. If you think she makes a good case, and you want to let her out, please comment on that particular video update. If more people want her out than in, she will get released. If not, she will have to send in a new selfie video to show her progress and report on her daily life in the belt.
This update was shot yesterday, so she already has been in the belt for a day. I haven't heard from her since, but no news is good news. I really have her keys right here. She can not get out, it is a super tight belt (her pussy is pressed very firmly against the perforated secondary shield as you can clearly see if you are a member). She can go to the toilet without problems, she is used to that, look at the awesome fit of the anal opening on the back of her belt in the video! It is perfect, she will have no problems there. So in theory, she can be belted for a long time…
When I receive an update from her, I will post it, so that will probably be sooner than Wednesday! Let's all be strict but kind to this awesome fetish girl, who put her fate in our hands!!