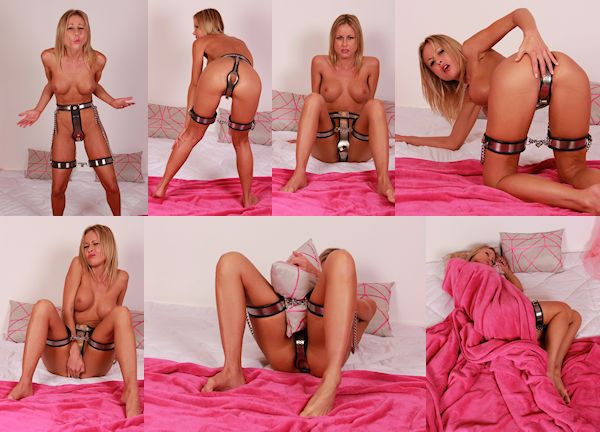 The very scary and agressive Sarah Jain was still in Holland, in need for some cash. I managed to invite her back, even after the first very agressive Casting attempt (and my trick to turn that Casting into a 5-day Deal, which did not work).
Of course, she was afraid that I would not let her out for 5 days, but this time there was no contract, just a request to model a chastity belt for me again, with added thigh bands. I even made her a nice little bed, and I hoped she would stay for the weekend, but I don't think this will really work without a proper contract. The next time she comes over from the USA, I will be prepared. She will get locked for at least 5 days!! It will be so much fun, since Sarah is the most agressive, horny, and mouthy woman you've ever seen! She is great to belt, because she is a very sexual person!
Sarah went crazy in the belt and thigh bands! She tried to pleasure herself by rubbing the secondary shield, but there was no feeling at all! That got her even more excited! She couldn't open her legs very far, which made it a lot more frustrating. Sarah even tried to gain access through the anal opening, but her fingers did not reach far enough. There were all kinds of crazy ideas, such as sitting on a dryer to feel some vibrations (but the studio doesn't have one). She even tried rubbing a pillow between her legs, but the thigh bands were in the way. Super frustrated, eventually she gave up and took a little nap.
Unfortunately, she did not stay much longer, and a Deal couldn't be reached, so I had to let her out after only about 3 hours! I guess she masturbated all night when she got back to her hotel in Amsterdam! I have never seen anyone get so frustrated and horny!