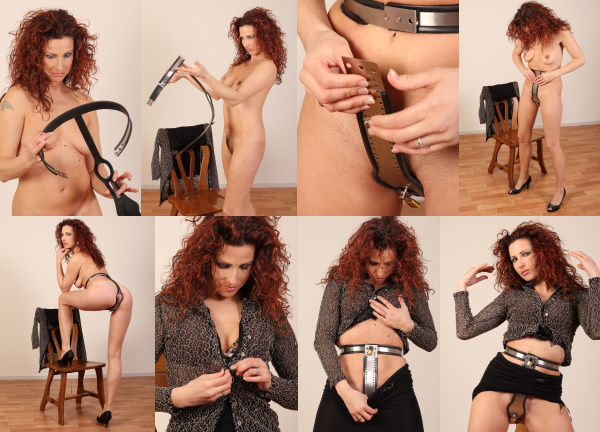 Yvette is a business woman, the kind you see on the streets every day. But have you ever wondered what these women are wearing under their skirts and blouses? You might pass a belted woman in the street and never know! That is a very large part of the excitement that comes with wearing a chastity belt.
This beautiful redhead loves to model in her spare time, but this time she is in for a surprise. The look on her face when she first sees the chastity belt is priceless! We urge her to try it on, after all, this is only a casting, she can always decide she does not want to take this any further.
As expected, once the belt is locked on with a little help, Yvette is intrigued! Very intrigued, in fact. She wonders if it is noticable under her normal clothes. She gets dressed in a skirt, bra, and blouse to find out. The skirt is a tight stretchy material, so the belt is very visible. It gets worse when the skirt starts crawling up, and then she realises everyone will see the belt when she sits down. She doesn't really know whether to feel ashamed or excited.
Yvette was in the belt for about 1 hour during this shoot. She has agreed to come back for a real update, so casting her was a success! Any thoughts on Yvette's next challenge?