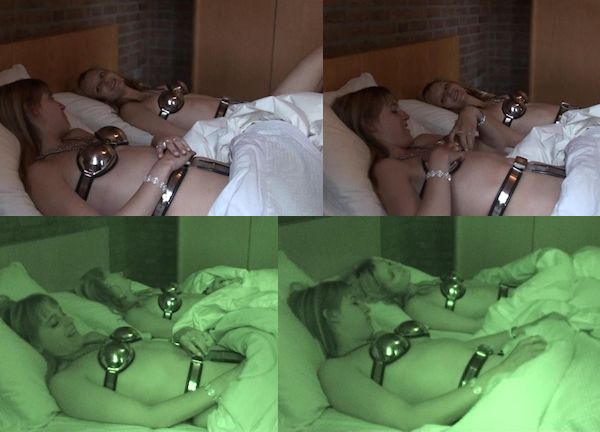 THIS UPDATE WAS SHOT ON DAY 9 OF THIS DEAL
This Chastity Deal coverage is taking a bit long, so I decided to cut to the last Challenge (evening) and show the unbelting next. That way we can make some space for other interesting Deals that will be happening soon! ;)
If there is enough interest, I will post the remaining footage of Silvie & Deborah at a later date. For now, we find them in bed wearing chastity bras in addition to their belts, talking about their last night and how incredibly relieved they are going to be tomorrow at the unbelting.
Granted, they did not get much sleep in 10 days. Even cheerful Silvie is starting to get upset with all the metal on her body. The bras are tight, and they make breathing harder because you can not expand your ribs. You have to rely on abdominal breathing more than chest breathing, but that's not an easy thing to learn in one day, and impossible to do in your sleep.
Fortunately for the girls, it is only for 1 night, and tomorrow they will be free! These Chastity Deals really make girls appreciate their freedom! They will definitely be sleeping for days after this one!
Dutch dialogue. English subtitles are included in the member download!