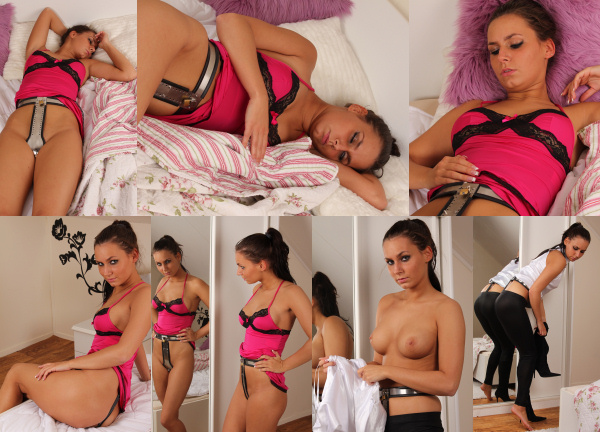 Carie has a long way to go in becoming a Chastity Babe. She is determined to become your favorite babe on this website, so she will do what is necessary to win your hearts. This sweet girl is really willing to train her ability to wear a chastity belt for longer periods of time, so she needs to start wearing her belt in real life, outside of our studio.
We will start with an overnight belting. 'Overnight' will be a separate category on the website, since many of you requested it. In this update you will see Carie putting on her own belt (the one we sized for her) before going to bed. It will be a restless night, because sleeping in a chastity belt for the first time is not as easy as it sounds! Carie is tossing and turning, constantly reminded of her steel enclosure.
In the morning, Carie dresses for work (she works in an office in real life, modelling is only her hobby). She tries to hide her belt, of course. A wide silk top will help to conceal her waist band, but the metal ass strap is clearly visible through her black leggings.
Next time we will see how Carie did during her day job!!