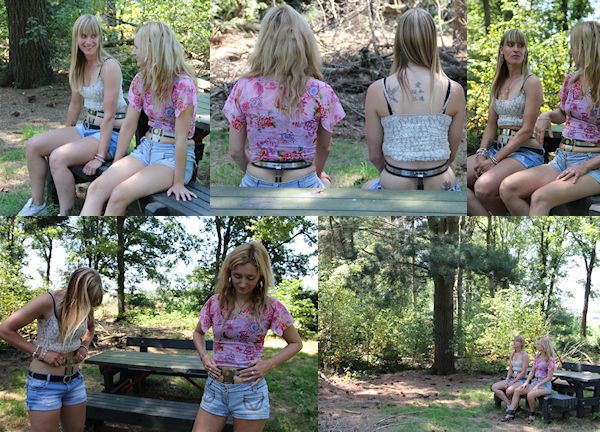 THIS UPDATE WAS SHOT ON DAY 2 OF THIS DEAL
On the afternoon of day 2, I raced to Silvie's house to check all the cameras and (of course) the girls in their belts. They seemed to be doing fine, although Deborah was still having a slightly harder time than Silvie. It was great to see that they had realised they could not stop their Chastity Deal now, they were going to be in the belts for 10 days. Stopping now would mean they had spent over a day in their belts for nothing, they wouldn't get any cash.
Since the weather happened to be great, I decided to take the girls outside to take their minds off the belts, and enjoy a few rays of sun. They were remarkably cheerful, as I was taking pictures and video, they even grabbed the video camera to do a (very short) funny self shot report!
We didn't have a care in the world out there, just two girls tightly belted in their jeans shorts, happily chatting along as always. They tried walking around, sitting, and they were discussing what movements would be most comfortable. The big problems were still lying ahead of them, but they were not too worried about it. For example, going number two on the toilet, showering, or the series of Challenges starting at day 4. None of these things seemed important right now, the sun was out, the belts were gleaming, and the dynamic duo was doing fine!
Dutch dialogue. English subtitles are included in the member download!