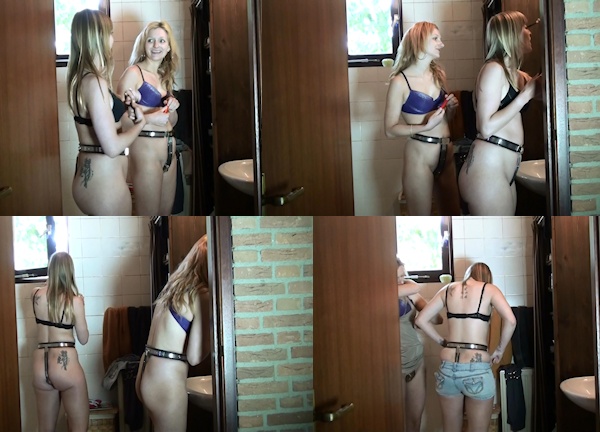 THIS UPDATE WAS SHOT ON DAY 2 OF THIS DEAL
Our dynamic duo woke up pretty cheerful on day 2, despite having troubles falling asleep. In this update, you will see them doing their makeup and chatting happily away, before getting dressed to deal with their second day of chastity.
One thing you will notice, is that Silvie and Deborah are not talking about the belts anymore. Or at least, not the entire time. Their conversation is mainly about makeup, mascara, and some kind of festival that they were looking forward to. Really, any girl can get used to wearing a belt!
Deborah spent the night at Silvie's place, so she didn't have anything to wear, but the girls are the same size, so Silvie offered her a pair of shorts and a top. Silvie would wear a dress, because she expected that would hide the belt better. But, much to their surprise, the shorts and shirt actually hide the belt much better!
It was great to see these girls move around so easily on the second day! Although Deborah was still very uncomfortable, and her thoughts were still about getting the belt off, or even trying to break the lock. Soon, Deborah would have to go to her own home in her belt! But there was no doubt they would be visiting each other constantly during their Chastity Deal, they needed each other to hang in there till the end!
Dutch dialogue. English subtitles are included in the member download!