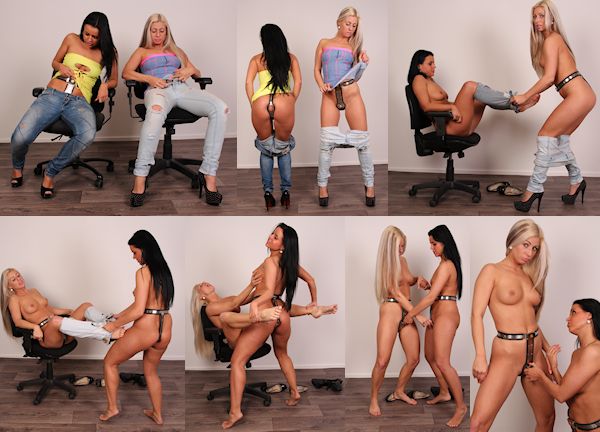 We met the cute young Laetitia shooting for MetalBondage.com. She never took any of that too serious, she just wants to have fun all the time! When we found out she is inseparable from her very close friend Candy Blond, we thought it would be a very good plan to have them over for a Casting. Just to see if they would be ChastityBabes.com material.
We locked both party girls in tight rigid style chastity belts, and told them to get dressed again. The belts had a very unexpected effect on them! These girls couldn't keep on their clothes for more than a few minutes, they just wanted to get undressed and examine the belts, to see if we were really serious! They had to help each other get out of their tight jeans, and after that, their hands went straight to the secondary shield padlock.
That's how you can tell an inexperienced Chastity Babe, they always try to break the secondary shield padlock instead of the main Burgwächter locking block on the waist belt. They don't realise it is not going to help them, even if they can break the padlock (which has a shackle protector) the belt will stay on.
We really didn't expect this duo to be so horny and excited, it is probably a good thing we locked them in a belt for a while, even though it was only a Casting. We can see real potential here, because they would absolutely have a very hard time being locked for any period of time!