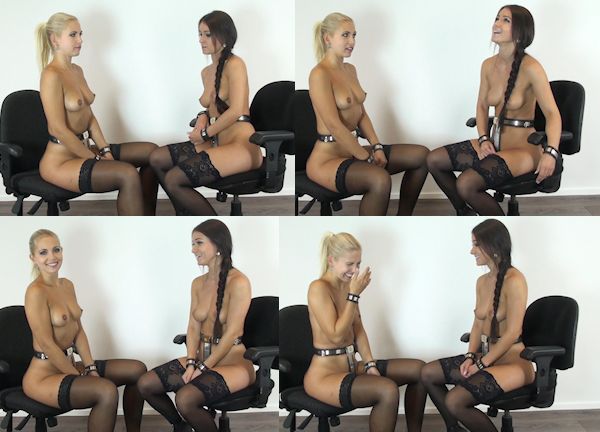 200 updates!! We have actually done it! Time to celebrate and look back on all the girls we have belted, all the stories and challenges we have done, it has been a crazy 2 years! We would like to thank our faithful members for their support and feedback! We could not do it without you! And we would like to thank our Babes, some of them have been through really tough times, but you always pulled through for us! We hope to be able to continue for a long time, and the plans we have are always bigger and crazier!
To celebrate, we would like to present you with a very special interview! When Jenni C and Melissa were staying with us for 4 days, we had them in chastity belts all the time, as part of a deal that we might show later. They had a full schedule with us, shooting for MetalBondage.com as well (in their belts of course), but they know the payment is good, and they are pretty used to wearing the belts. We love seeing them walk around the house, two of the hottest Czech girls locked in metal, they are just so cheerful and funny!
We asked Jenni to interview Melissa, talking about their days in the chastity belts, and how this is probably one of their stranger modelling jobs. We asked them to speak English so everyone can understand, and you will love the results! The long interview goes on about money (payment for being belted), daily discomforts, showering in the belt, going to the toilet, being in public, and a lot of other topics that give a good insight in how these girls are coping with this bizarre modelling assignment.
The girls had such a good time that they could hardly keep a serious face during the interview, resulting in some hilarious outtakes (also included in the member download). You will most certainly crack a smile too, when you are watching these topless girls talk about their belts like it is the most common thing in the world!! This is a MUST SEE!!