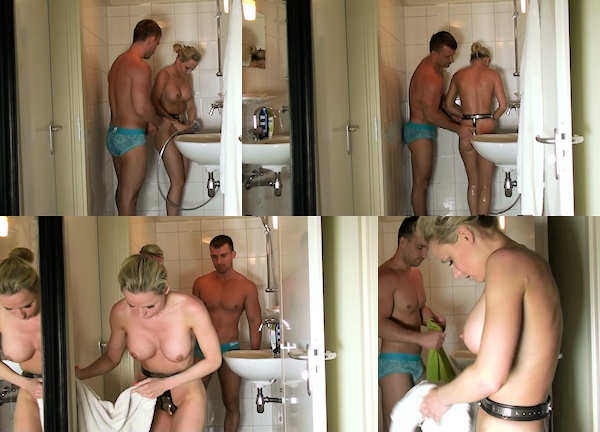 Our pretty little blonde Chastity Deal girl Misha did not want to shower for the first two days in the belt. She was not very comfortable, and afraid she couldn't dry very well after showering, making her ordeal even worse.
But after sunbathing and sweating for a whole afternoon, she just had to take a shower. There was no other option. It was on this day that she discovered that showering is actually a very good thing when you are in a Chastity Deal.
Her boyfriend Paul is helping her in any way he can, he really wants his girlfriend to make it all the way to the end! The money is quite substantial, and we have a feeling that he is, in a way, teaching her to not give up on things in life so easily. Misha seems to be dealing with her belt fine, she probably doesn't need Paul's help in the shower, but it is nice that he is trying to be 'in the deal' as much as she is.
Jokingly, Paul says he hopes the belt is not going to rust, or Misha will have to stay in the belt forever. She doesn't seem to worry about it. Drying is easy too. The belt is so tight that almost no water got under the front shield. It is a bit of a problem, but we will show them what the mysterious secondary shield padlock is for in a few days, so hygiene issues will not stop Misha from making it to the end.
This is a real Chastity Deal, with consenting participants, there is no acting. Never belt a girl against her will! Remember these updates are not shot in a studio so picture quality may vary.
English subtitles are included in the member download!