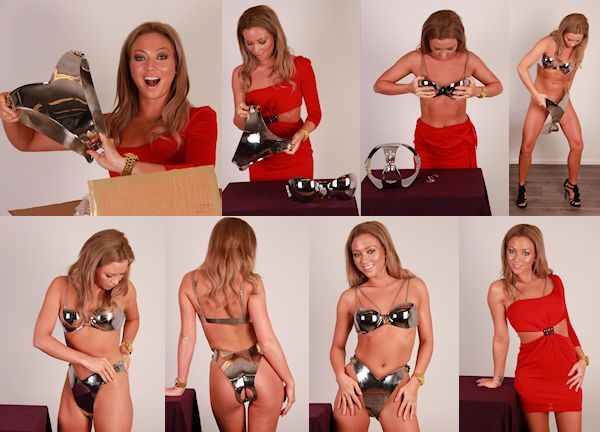 We are very proud of this incredible update! For years and years, there only were a few fuzzy pictures of the elusive Latowksi female chastity belt and chastity bra to be found on the world wide web. Latowski only ever made a few prototypes of their female design, and focussed on the demand for male chastity belts instead.
We have managed to get our hands on one of those rare prototypes, and amazingly enough it seemed to be the right size for quite a few of our babes! Natalia Forrest, who has recovered from her record-breaking 5 days in full chastity, was easily convinced to try on this metal swimsuit. An easy modelling job for her this time! And wow, does she look incredible in the form fitting Latowksi outfit!
Natalia locks herself into the gear, and we take the keys away from her. After seeing how well it fits her, we like her to stay locked in this for a while! Actually, we almost made it a Chastity Deal again, but we couldn't do that to her for the second time. Natalia puts her beautiful red dress on again, and the outfit disappears completely, except for the elegant bra chains. Who would have known that it is possible to wear this amazing piece of craftsmanship under clothes and out into the streets. We definitely have to try that with one of our babes!
We hope to lock quite a few girls into this outfit over the next months, it is simply stunning to look at!