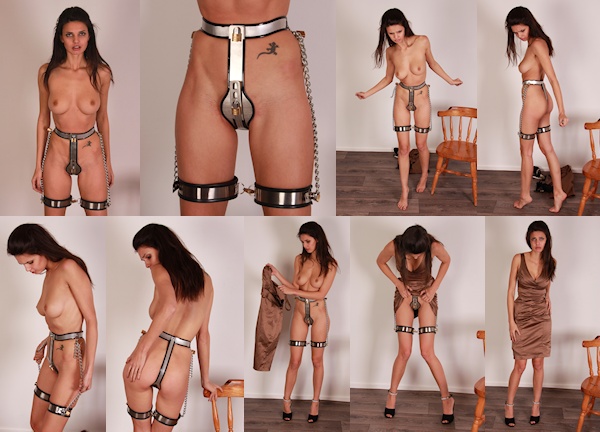 Yasmine read your comments about her being a good candidate for a Chastity Deal, so she curiously contacted us how much money there is to be made with that. We are definitely going to lock her up for a longer period this summer! She is gorgeous and fun, so what more could you ask for?
But instead of shooting it all and showing it to you later, we decided to let you have chance to comment on Yasmine's faith, and what her Chastity Deal should be like. We have already decided on the gear, however.
Recently, we had two identical chastity belts built. The are completely designed for use on this website, you will not find a similar belt anywhere else. These custom made 'ChastityBabes' belts are rigid style, ergonomical, slightly adjustable in waist and crotch, and highly suitable for 24/7 wear. They are also very high security, all of the metal is hardened and the padlock shackles are fully protected by custom locking posts. Lose the key and it's off to the fire department, and even they will have a hard time getting it off!! You can read more about the new belt here.
We invited Yasmine over to get acquainted with the metal that will soon be locked onto her for a longer period of time. We also asked her to bring a dress to test the thigh band visibility. Yes, Yasmine's thighs will be locked together for the whole Chastity Deal! But you decide the rest of her challenge! How long? Will she have to go outdoors? What other gear would you like to see? Any reward or punishment rules? Challenges? We are curious and Yasmine is nervous (she will be reading your comments!). Please mention if you are a member when commenting, we give priority to member suggestions!