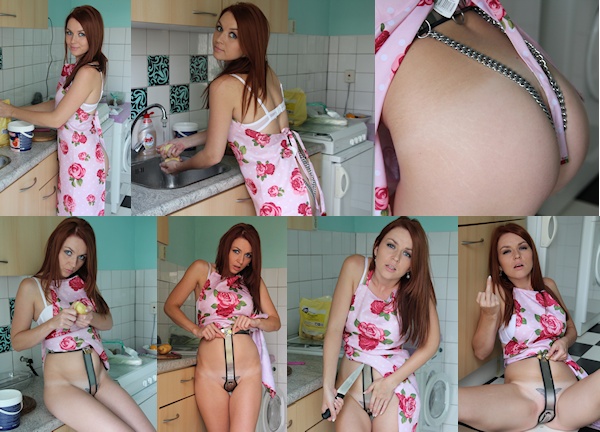 Well… at least that was the idea: Taylor preparing a nice dinner for us. She volunteered to do so, but in the end it was a really long wait and we had to finish the preparations ourselves.
Locked in her chain style chastity belt for almost 6 hours now, Taylor was way too distracted to peel and slice potatoes. She is one of the girls that actually get horny from wearing a chastity belt, which is very ironic (to say the least). And Taylor got very horny that day. Her pussy captured in the secondary shield cage was rubbing against the belt at every move, and sitting down on that part of the belt actually seemed to arouse her even more!
So yes, being horny makes it hard to prepare dinner. Taylor even tried to open the padlocks with the knives, including a huge one, but luckily she realised that was going to be too dangerous. The sheer frustration in this update is very nice to watch, Taylor tried to be a good housewife, but her mind just wouldn't cooperate.
We didn't let her out, of course. She would be locked in her chastity belt until late in the evening. Dinner was interesting, Taylor only had a few small bites…