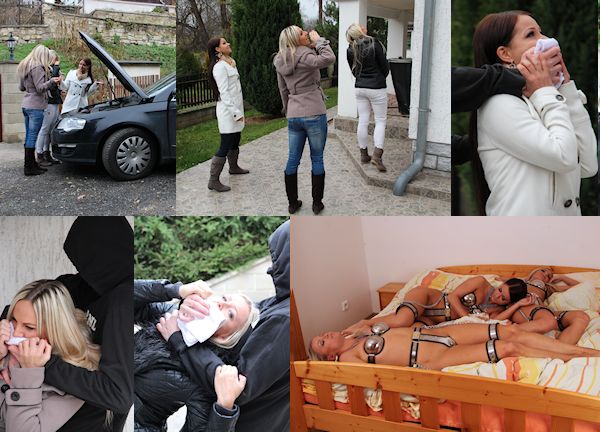 CHASTITYBABES.COM FEATURED UPDATE!
Brittany, Tiffany, and Melissa are well-known glamour models on their way to an exciting photo shoot! Unfortunately, their car breaks down and they find themselves stranded in a very quiet rural town in the Czech Republic. They decide to go and find help, leaving their car behind. They hope to find a nice helpful person at the nearest house.
There seem to be no signs of life at this creepy house. All of the windows and doors are locked. The girls walk around the house, knocking and shouting, but there seems to be no one there. The girls decide to split up. Tiffany remains at the front door while Brittany and Melissa wander off in different directions, in a last attempt to find someone who can help them with their car.
One by one, the girls are captured by a masked man! They should never have split up, now they are easy targets! They struggle, but eventually all three girls are unconscious and powerless. It is hard to tell how long they were out, but nothing could have prepared them for what happens next:
Slowly, the girls wake up in a strange bed. Even with their headaches, it does not take them long to realise they are locked into full chastity outfits! All of their clothes are gone, as well as their mobile phones!! Confused and dazed, the girls tug at the steel gear that is locked onto their bodies. They are very frightened and worried. The room seems to empty except for the bed. Who did this to them? What are they supposed to do now!?
To be continued next week… Stay tuned!!